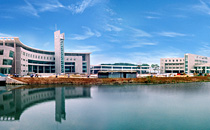 Foreign Teachers Affairs
HBUE holds the qualification of employing foreign faculty, there is the International Affairs Office in charge of foreign teacher's daily life and teaching. Every year, a number of foreign teachers are employed to teach in our university. Currently, there are 11 foreign teachers working on the campus who are from America, Australia and United Kingdom. The courses include Oral English, Outline on UK & USA, Business English, English Writing, ESP and English Film & Video etc.
Foreign teacher group is an essential part of HBUE staff. They're enjoying the pleasant working and life experience at HBUE and playing an increasingly important role in broadening the students'international views.
For vacancies information, please click on:http://english.hbue.edu.cn/gwqp/1871.htm