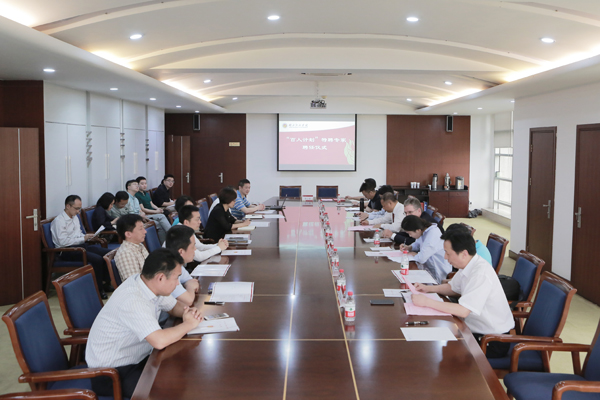 On May 31, the school held the appointment ceremony of Professor Jonathan Hamilton's Hundred Talents Program special expert. Secretary of the Party Committee Wen Xingsheng, deputy party secretary, secretary of the Disciplinary Committee Mei Hua, vice president Chen Xiangjun, Zhang Yilin, standing member of the party committee attended the meeting. Mei Hua issued a letter of appointment for Professor Hamilton. Chen Xiangjun and Professor Hamilton signed an appointment contract. Related functional departments, heads of institutions, and teacher representatives participated. Liu Dahong, deputy party secretary, presided over the ceremony.
Wen Xingsheng expressed his warm congratulations and sincere welcome to Professor Hamilton's appointment of a special expert for the Hundred Talents Program of our school. He said that Professor Hamilton joined our school as an expert of the "Hundred Talents Program" and is a great joy for the school. It is the result of high-end guidance and batch follow-up effect in the process of talent introduction in the school. It is also a result of the major achievement of the school's first-class teacher team construction.
He said that the joining of Prof. Hamilton will play an important role in promoting faculty development, scientific research, discipline development, and personnel training in the School of Finance and Public Management of our school and even the entire school. He hope that Professor Hamilton will use his solid professional theoretical knowledge, rich international academic resources, and an open international perspective to lead the School of Finance and Public Administration to develop academic productivity, strengthen scientific research, actively promote discipline development and personnel training, and pushed the subject and even the overall scientific research of the school to a new level.
He pointed out that introduction is only the starting point, and use is the key. He demanded that some colleges and functional departments adhere to the principle of "focusing on practicality and emphasizing practical results," and use "precision, specificity, and rigidity" as working standards, anddevelop scientific and reasonable job responsibilities for each expert and scholar so that they can play a more effective role in their field. In order to benchmark management, we will break down tasks such as the school's goal of upgrading and its goal of ascending to every expert and scholar, so that they can play a guiding role and lead us to climb over the slopes and overcome obstacles; To strengthen the management of contracts, the quantification of the energy of work responsibilities can be clearly defined so that experts and scholars have a clean direction in their work; It is necessary to strengthen assessment management, compare the responsibilities of contract work, implement strict annual assessments and assessment of employment periods, and pay attention to the assessment results.
He stressed that young teachers should actively communicate with professors and scholars such as Professor Hamilton, work together on research, and form partnerships to promote cooperation and development. The relevant functional departments should do a good job in the service of professors and scholars such as Professor Hamilton so that they can feel family-like warmth in the scholastic life. They can find like-minded academic partners in their work, and they can achieve a sense of accomplishment in the development of Scholastic careers.
Professor Hamilton said that he is honored to be a member of the school. He will try his best and make progress together with the school. He will work together with young teachers and students to learn together, to collide and integrate different cultures, and expect to exert his energyand contribute to the development of the school.
As of now, the school has hired three 100-person plan special experts.
Profile of Professor Jonathan Hamilton:
Jonathan Herman HAMILTON, male, was born in Evansville, USA, in November 1954. He graduated from the Massachusetts Institute of Technology (4th in 2017) and is currently working at the University of Florida (2017 global rankings). 88) Department of Economics, Professor, Department Head.
From 1972 to 1975, he obtained a bachelor's degree in economics from Yale University (2017 ranked 11th) and a doctoral degree from 1977 to 1982. He received a doctorate in economics from the Massachusetts Institute of Technology.
1981-1984 Assistant Professor, Department of Economics, Tulane University; Researcher, Murphy Institute of Political Economy; 1984-1990, Assistant Professor of Economics, University of Florida, Operations Research, Leuven, Belgium Center and CORE Visiting Studies; 1990-1996, Associate Professor of Economics, University of Florida, visited Duke University, Barcelona University; 1996, Professor of Economics, University of Florida; Spring 2002 - In the summer of 2010, he served as Weyenburg Fellow at the University of Florida, and Head of the Department of Economics at the University of Florida, where he was Visiting Professor at the University of Leuven, Belgium, and at CORE and Economics at the University of Virginia.
Professor Jonathan Hamilton's research area is public economics. The main directions are the optimal taxation theory, game theory, positioning theory, and industrial organization theory. At present, there have been 36 published journal papers. Representative papers are published in the Quarterly Journal of Economics. Journals such as Journal of Public Economics, International Economic Review, and other international top journals; teaching guides such as Microeconomics - Study Guide, Samuelson Economics - Tutor Handbook, etc.; US Natural Science Foundation, International Funded by International Information Research Center, CORE and other international funds.
Professor Jonathan Hamilton served as deputy editor of Regional Science and Urban Economics; member and deputy chairman of the Southern Economic Association committee and was nominated by the chairman in November 2010; member of the International Institute of Public Finance 2008 Conference; Southeastern Economic Theory and International Trade Conference Co-Chairs and other duties. He is currently advisor to the Southern Economic Journal, senior associate editor of the Southern Economic Journal, deputy editor of Economics Bulletin, and reviewer of internationally renowned journals such as the Oxford Research Encyclopedia of Economics and Finance, and has extensive academic influence.