—Wuhan in recovery
On November 26th, 2020, the award ceremony of the first Chinese and International Student Photography Competition Wuhan in recovery sponsored by the school of International Education was held as scheduled.
Guests of this activity include: Professor Wang(Diana), dean of The School of International Education, Professor Fei, secretary of the School of International Education, Doctor Zhang(Adam), vice dean of the International Exchange and Cooperation Department. Both Chinese and international students took an active part in the competition. The students Shared Wuhan in recovery with their cameras, showing the vibrant Wuhan after the epidemic.
In this competition, students' entries recorded their colorful life, the beautiful Scenery of China and the revived Wuhan from different perspectives. The judges selected ten photos from a large number of entries, and voted by professional jury selection and WeChat public online voting, Gao Jiayuan and MCHENULA CHISOMO won the first prize of the competition, Feiyue, Deng Lingli, BASSOM BASSOMJORDAN AKHENATON won the second prize, Miao Tingyu, Yin Tianle, Zhong Ting, PHIRI MAUREEN and ASONGNA ERNEST MBECHO song won the third prize.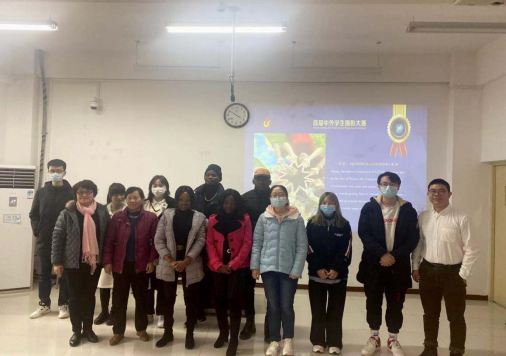 At the end of the award ceremony, Professor Wang said that the highlight of the competition was not only on the technique, but on the meaning behind these photos. In the photographic works, we can see the revival of Wuhan and the differences between Chinese and international cultures. At the end of her speech, she congratulated the winning students and encouraged them to discover the beauty around them and capture the beautiful moments in their spare time.
This competition aims to feel the recovery and development of Wuhan after the epidemic, and promote cultural and artistic exchanges between Chinese and international students. Let's discover the beauty of the scenery and people in our life, record the happy moments, and convey the anti-epidemic spirit of solidarity and mutual assistance.