On June 10th, the School of International Education organized an extracurricular activity for international students—experiencing the traditionalChinesetie-dyeing craftsmanship in 126studio.Aimed at promote students' understanding of traditional Chinese craftsmanship, this activity will also increase their interest in learning Chinese and Chinese culture.
The whole activity can be divided into two processes, introduction and dyeing. First, The designer of 126 Studio introduced the history of this Chinese traditional art, Then the students started to experience the Tie-dyed activity. They used different tools to keep a piece of cotton cloth in various shapes. Last,students used their imagination to design the decorative patterns of their cloth. After washing, there were different but exquisite figures on their cloth, and an unique handicraft was created. When the students finished all the steps, they are amazed at those elaborate "products" made by themselves.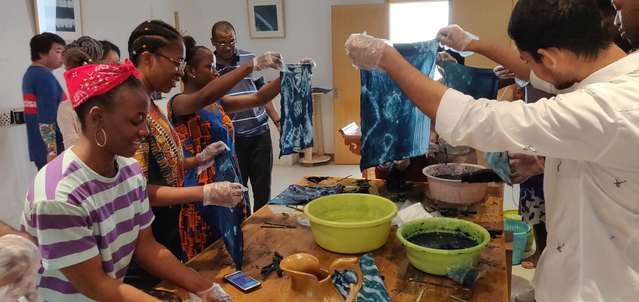 This extracurricularactivity help the international students have a better understanding of the profound Chinese cultureand the excellent traditional Chinese craftsmanship.It can also enrich the after-class time of international students and promote the friendship between Chinese students and foreigners.