March 23, appointment ceremony for Guest professor Dr. Zheng Binghan, Dr. Sergry Tyulenev from Durham University, UK, was held at the School of Foreign Languags. Vice President Wu Xianfu awarded two professors with the appointment certificate. Teachers and students representatives from Department of Personnel and School of Foreign Languages attended.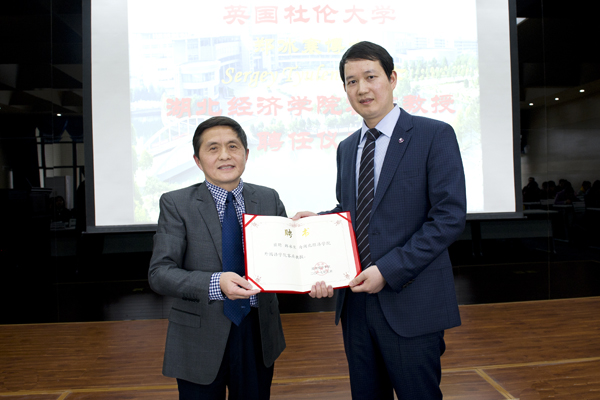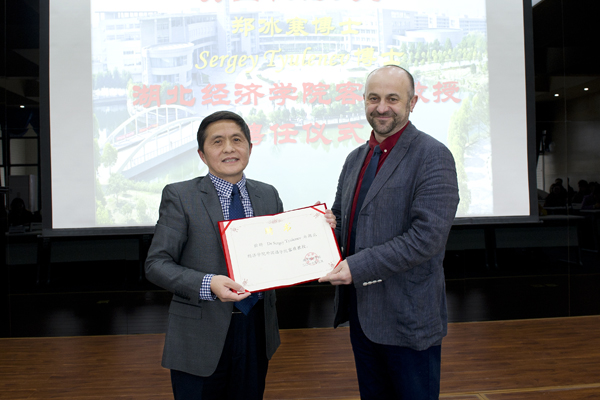 Vice president Wu Xianfu extended a warm welcome to Dr. Zheng Binghan and Dr.Sergry Tyulenev of being guest professor in HBUE. He said that our School is now implementing the strategy of strengthening the talent development, and to build a team of high-level talents is a critical support to promote the construction of high-level university in the field of Finance and Management. He hoped the two professors can comprehensively enhance the interactions and exchanges, and jointly promote the education level of our School.
Dr. Zheng Binghan conducted an academic lectures and exchanges and discussed his translation research of nearly 10 years and his cross-border research results. As the scholars of the World's leading scientist teaching in Hubei program, Dr. Zheng Binghan hopes he can carry out more academic exchanges and researches in HBUE in the future.
Introduction of Dr. Zheng Binghan:
Associate Professor of Modern Language and Culture (tenure) in University of Durham, Director of postgraduate faculty and Intercultural Research Center, Doctoral Supervisor of Translation and Linguistics. He is currently the Chairman of World Translation Education Union Exchange and Cooperation Committee. He was the Chairman of British Chinese Teaching Research Association, and the Academician of the Churchill College of Cambridge University. He is also the guest professor of University of International Business and Economics, Guangdong University of Foreign Studies, China University of Mining and Technology etc, and a senior researcher of Communication University of China. In 2016, he was selected to the program World Famous Scientist Teaching Plan in Hubei, 2017 he was selected to overseas teacher project of South China University of Technology. His Research directions are Translation cognitive process, cognitive linguistics and foreign language teaching etc. His published works related to translation and international Chinese teaching etc, and he published dozens of papers in the international and domestic core translation journals like Babel, Perspective, Translation and Interpretation Studies, Asia Pacific translation and Cross Cultural studies , Foreign Language Teaching and Research , Foreign Language . He is currently engaged in the Cognitive Neuroscience, Guoxue Wisdom and Modern Management, Crossing the Boundary of Translation and other projects; and as a special editor, he is the editor of special issue A Comparative Study of Translation and Interpreting in international translation journals Translation and Interpretation Research.
Introduction of Dr. Sergey Tyulenev
Dr. Sergey Tyulenev is the director of the MA in Translation Studies at Durham University, UK. He has widely published on linguistic, cultural and social aspects of translation, translation historiography and the epistemology of translation studies. His recent publications include Applying Luhmann to Translation Studies (Routledge); Translation and the Westernization of Eighteenth-Century Russia (Frank& Timme)