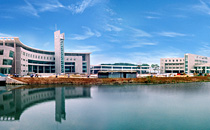 Accommodation
Location: Foreign Students Dorm, 桂苑(Gui Yuan)Building No.1, Hubei University of Economics
Room Type: Double room
Facilities: air-conditioner, fridge, washing machine, micro-waver, microwave oven, induction cooker, internet access, flush toilet.
Fee: RMB 2640/year, other fees like electricity, water etc. should be paid by one's own.
How to apply for university accommodation?
1. Download Check-in Form for International Student Dormitory
2. Complete the form and email it to: interadmission@hbue.edu.cn
3. We will contact you after we receive the form and arrange the dorm for you.