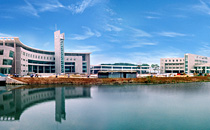 I. Specialty Introduction
1. Target: The program aims to equip the students with the basic knowledge and skills of international trade and business. Students need to learn Chinese and Chinese culture, the existing status of the international market, the current rules and practices of international trade, China's foreign trade policies and regulations as well as the social and economic circumstance throughout the world. After gradation students can work at international trade departments and foreign companies.
2. The Core Courses: Economics, International Economics, Management, International Trade, International Commerce, International Business Law, Investment, Monetary Finance, and International Business Practice.
II. The Length of Study and Semester Plan
The length of study for the major is 4 years comprising 8 semesters and 165 weeks. There are 19 teaching weeks and 159 weeks in each semester, including the exam week in semester 8, the 19th week.
III. Recruitment and Admission
1.Prospective Student: Anyone who is eligible to sign up should above full 18 years old and less than 25 years old, with a high school degree or above, hold foreign passport, be healthy in both physical and psychological, abide by Chinese law and school rules and regulations, respect Chinese people's customs and habits.
2.Admission:School of International Education will check the files provided by the prospective students and send the ADMISSION NOTICE to the qualified students' e-mails.
IV. Fee Standards
Tuition:RMB 9000 for the first year.RMB 16000/year from the 2nd year to the 4th year.
Accommodation: RMB 2640/year/person. (Double room)
Commercial insurance: RMB600. (It is a necessity stipulated by Chinese government for every international student.)
Registration Fee: RMB 500
Physical examination: RMB60-RMB225. (If you have the standard physical examination form you may just pay about RMB60, but if you don't have, it may cost you RMB225 or more.)
Residence permits: RMB400 for one year or less.
Other fees like electricity, water etc. should be paid by one's own.
V. Application and Contacts
Application: Please download and fill
HUBE APPLICATION FORM FOR INTERNATIONAL STUDENTS.doc, then send us the APPLICATION FORM with the materials below through E-mail.
(1) High-definition scan copy of your passport
(2) The scan copy of official certificate of your highest education
(3) The scan copy of official transcripts
Contacts: interadmission@hbue.edu.cn; 027-87990507
Address:No.8 Yangqiaohu Road, Canglongdao Developing Park, Jiang Xia District, Wuhan, Hubei, P.R.China.
Postcode: 430205
Website:http://english.hbue.edu.cn/sien/