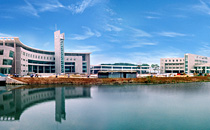 HUBEI UNIVERSITY OF ECONOMICS
Hubei University of Economics is a full time provincial university, approved by the Ministry of Education in September, 2002. The history could be dated back to 1907, when the Hubei Commercial College was established by Zhang Zhidong. The university is located in Wuhan, the capital of Hubei Province and thorough fare of nine provinces in China and lies beside the beautiful Tangxun Lake, covering an area of about 1740 mu with a construction area of more than 660,000 square meters. The beautiful campus is an ideal place to study and purse academics as it sits by a belt of crystal water, looks fare into a distant mountain, with fresh air in the midst of lush trees.
The University forms a main trunk of economics and management science with coordinated development of related discipline system of law, literature, science, engineering and arts. Currently, the university has 4 project units for key discipline at the provincial level, 16 distinguished professor position disciplines of "Chutian Scholar", 1 major for master's degree recruitment, 57 majors for bachelor's degree recruitment, 3 national featured disciplins, 9 national or provincial pilot program of specialty comprehensive reform,1 national experimental teaching demonstration center. There are over 16,000 enrolled students, including post-graduate and undergraduate students and the graduate employment rate consistently maintains a high rate of more than 90%.
The University insists the idea of science research of guidance of theoretical research and focus of application research. It has 1 national collaborative innovation center Hubei Branch, 1 provincial collaborative innovation center, 7 provincial key research base of humanities and social sciences, 3 Provincial scientific research platform, 2 reform think-tank of Hubei provincial Party Committee. Over the past few years, HBUE has undertaken 86 projects from National Natural Science Fund, National Humanities and Social Science Fund or Ministry of Education, has won 79 scientific research prizes above provincial and ministerial level, 25 research reports instructed from provincial and ministerial leaders. A number of research results are directly transformed into national and local policy laws or government planning and decision-making.
HBUE implements the strategy of strengthening the university with talents and takes pride in its well-structured teaching faculty with reasonable structure, strong devotion and great vigor. It has 970 full-time teachers, among who there are 114 professors and 374 associate professors that from a solid foundation. Doctoral rate in main disciplines is 45.87%. A number of young and middle-aged academic leaders continue working at the frontier of teaching and research, growing their promising talents in Economics and Management and beyond.
Hubei University of Economics adheres to the school's Virtue, Erudition, Statecraft, and benefitting the people motto and student-centered, morality-strengthened ideology, strives to improve students learning experience, focuses on market demand, collaborative innovation and talent cultivation, deepens comprehensive reforms, develops management capabilities, moving forward to the goal of building a distinctive high-level university of finance and economics.
(Statistics updated May 24, 2019)