On December 15th, Dr. James A. Nemes, President of Penn State Great Valley, visited our school. Vice President He Huigang received the guests. The International Exchange & Cooperation Department, School of Finance and School of Accountancy were involved in the cooperation meeting.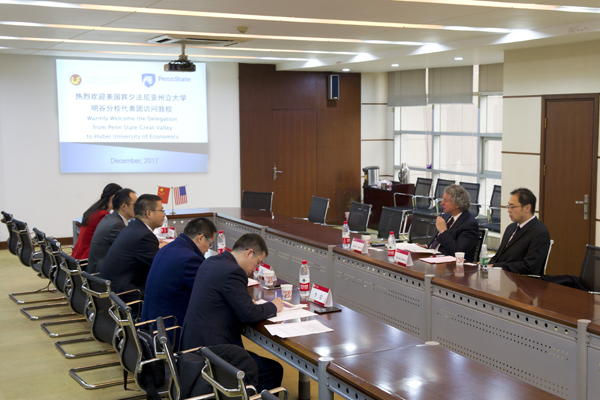 He Huigang warmly welcomed Dr. Nemes and his team. He introduced achievements in school running, history, professional characteristics, teaching staff, scientific research, and international exchanges. He pointed out that one of the most important goals of talent training is to improve the international competitiveness of the students in our school. This applies to programs like finance, management, data analysis and software engineering etc. There are many potential opportunities for cooperation, and he holds great confidence in future cooperation bewteen the two sides in the fields of student and faculty exchanges.
Dr. Nemes expressed his gratitude for the warm reception of our school. He introduced the Penn State University' philosophy, geographical position, professional setting, and the level of scientific research, hoping to further broaden the channels of communication between students and teachers, to strengthen academic exchanges.
During the talks, cooperative master program, 3.5+0.5+1 bachelor plus master cooperative program, student summer program were discussed by the two sides, and reached a preliminary consensus.
Penn State University is a leading research university in the world, located in Pennsylvania, USA, ranking the top ten in the public universities in the United States. It is known as the public Ivy in the United States.
The school is also a member of the world's top university alliance AAU (Association of American Universities). The school's academic research capacity is at the forefront of the world, and is the top in the world in terms of engineering, meteorology, geosciences, geography, media, management, special education, agriculture, etc. Pennsylvania State University, in addition to the main campus of University Park and the more than 20 joint campuses' unified management is not independent. All campus degrees by the Penn State University issued are unified. The school's latest World Rankings: US.News United States University Rankings: 47; U.S.News global university rankings: 57; UK TIMES World University Rankings: 44. Our school has signed a memorandum of cooperation with Penn State Great Valley to carry out a master's degree cooperation program.