On November 24th, Taiwan Chaoyang Science and Technology University's Vice President, Zhang Youheng visited our school. Vice President Chen Xiangjun received these guests. The relevant person in charge of Hong Kong, Macao and Taiwan Affairs Office, School of Journalism and Communication, School of Art and Design participate in the Symposium on exchange and cooperation.
Chen Xiangjun gave a warm welcome to Zhang Youheng and his colleagues. He pointed out that Hubei University of Economics has a 110 year history of school running. In the past 15 years, the major leaps and bounds of running conditions, and the level of running a school have been recognized. Presently, schools are struggling to build a high level of University of Finance and Economics, and hope to cooperate with Taiwan Chaoyang Science and Technology University in many aspects. They plan to jointly promote the development of universities, providing better cooperation and exchanges between the two sides of the Straits.
Zhang Youheng expressed his thanks for the hospitality of the school, and introduced the school scale, scientific research level and cross-strait cooperation in Taiwan Chaoyang Science and Technology University. He hopes to cooperate with our school in the future of short-term students' visits, teachers' visits, cooperative research and some other fields.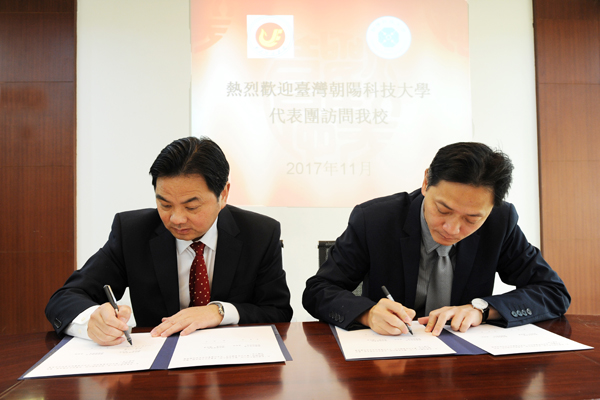 Chen Xiangjun and Zhang Youheng signed a cooperative agreement on behalf of both sides.