As the Spring Festival is approaching, in order to let the international students in HBUE more deeply understand the traditional customs of Chinese Spring Festival and experience Chinese traditional culture, a Spring Festival Cultural event was successfully organized and held by the School of International Education on February 5. Fu Hong, Vice President of the University, along with leaders from the International Exchange & Cooperation Department and the School of International Education attended. All school's international students, both on Campus and overseas, joined the activity through online + offline way.
First of all, Vice president Fu Hong, on behalf of the University, extended cordial holiday greetings and new year's wishes to all the international students. He fully recognized the fruitful work of international students in the university during the period of epidemic prevention and control, put forward some hopes for the next stage of study, and sent new year's wishes to all international students.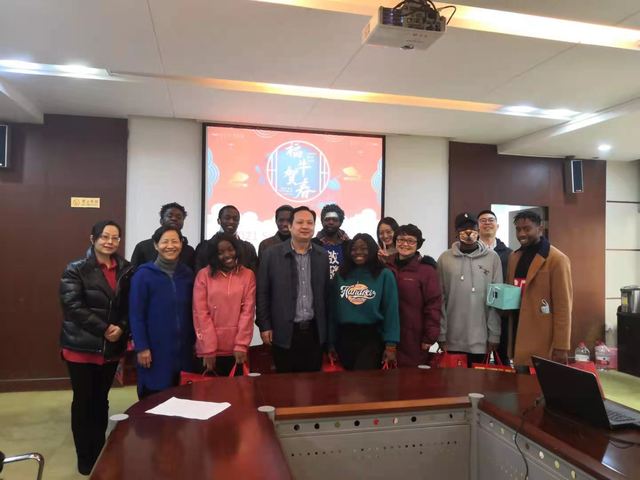 The staff from the School of International Education have thoughtfully prepared and arranged interesting activities for the Festival event, such as story sharing of traditional New Year culture, exchanging gifts and New Year cards between teachers and students, and making dumplings, so that international students who left their hometowns can also feel the care from the school. During the event, all teachers and students shared the New Year traditions and customs of their respective countries through online and offline ways to understand both similarities and differences of various cultures, exchanged greeting cards to express good wishes for the new year, and students also experienced dumplings-making under the guidance of their Chinese teachers. Finally, all students received the New Year gift package sent by Vice President Fu on behalf of the school and a group photo was then taken with joy on everyone's face.
The activity was successfully held with great festival atmosphere and a lot of laughter, joy and fun. Through this activity, international students have developed a better knowledge of Chinese Spring Festival, experienced the charm of Chinese customs, and deepened their understanding of Chinese traditional culture.
The School of International Education has taken various measures to ensure the fulfilling life and study for international students on campus during their winter holidays.