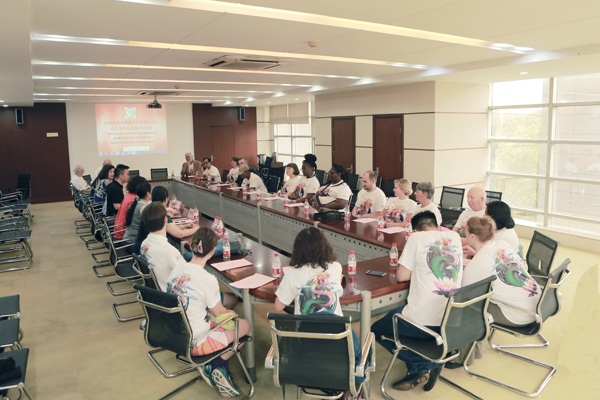 On May 30th, the opening ceremony for 2018 the Auburn University at Montgomery(AUM) Confucius Institute Summer Camp was held at our school. Deputy secretary of the Party Committee Liu Dahong attended the ceremony, together with faculties representatives from Student Affairs Department and International Exchange and Cooperation Department.
Liu Dahong warmly welcomed the 20 Confucius Institute delegation members and introduced them the situation in Hubei Province and Wuhan City, the history of our school, subject specialty and other basic situations briefly. He pointed out that our university and the AUM have friendly cooperation with teachers and students for many years. The Confucius Institute has been contributing to the spread of Chinese culture. The summer camp activities provide a good opportunity to experience the charm of Chinese culture in China. It also conforms to the trend of friendly exchanges between China and the United States and further enhances the exchanges and cooperation between our school and the AUM.
During the two-week summer camp, the teachers and students, accompanied by student volunteers, learned Chinese, calligraphy, Chinese painting, paper cutting, Tai Chi, etc., and experienced Chinese food culture. They deeply felt the long history and profoundness of Chinese traditional culture. In addition, members also visited Wuhan Economic Development Zone Primary School and Wuhan Erqiao Middle School to exchange with local students and teachers.
They will also go on a trip to Beijing to visit the Confucius Institute Headquarters, the Palace Museum, the Great Wall, and so on, to experience the essence of Chinese culture in all directions. The summer camp to China has always been one of the most popular cultural programs of the Confucius Institute. It has improved the enthusiasm of the students to learn Chinese, deepened their friendly feelings towards the Chinese nation, and played a positive role in understanding China better.