On the 18th of October 2018, the President Pierre Zundel of the Laurentian University Ontario, Canada, paid a visit to our University. President Dong Shijie and Vice President He Huigang presided over the meeting, attended byheads of the departments including Teaching Affairs Department, School of Finance, School of Business Administration and International Exchange & Cooperation Department.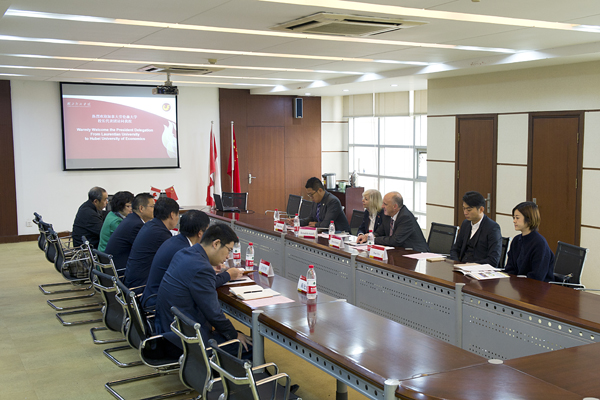 President Dong Shijie gave a warm welcome to the delegation from Laurentian University, Canada on behalf of the academic staff and students of Hubei University of Economic, whilst gave the delegation from Laurentian University a quick orientation related to the HBUE's history, construction, scientific research, disciplinary structure and teaching methods within the facility. President Dong Shijie also expresses his wish, desire and expectations for further cooperation in all aspect of the business between both Universities now and into the future.
Vice President He Huigang held an in-depth discussion on cooperation program detailsand cooperation agreement between both Universities. Lastly, President Pierre Zundel gave a brief introduction of his University and then expressed his wish of enhancing the exchanges and collaboration between both Universities relates to students exchange, faculty communication and joint research.
On behalf of respective universities, President Dong Shijie and President Pierre Zundel signed a Memorandum of Understanding.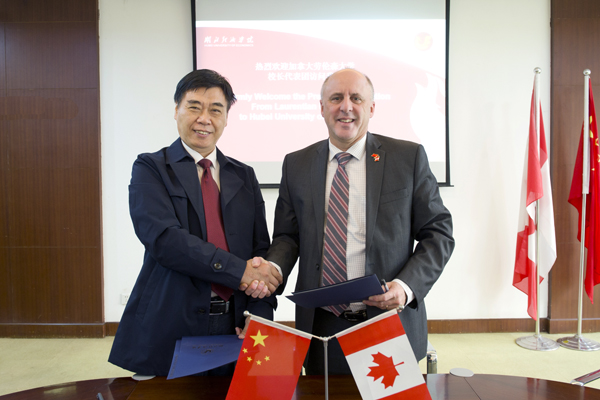 Laurentian University, Ontario, Canada was first established in 1960, as one of the two bilinguals Universities with English and French-speaking academics, attained by over 10,000 students worldwide, providing a variety of different academic courses such as 7 PhD programs, 37 master programs, school of architecture, business, mining, environment, and has a medical school within the University.