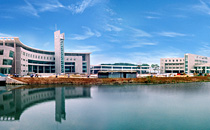 HBUE at a Glance
INTRODUCTION
Located in Wuhan, the capital of Hubei Province and a major hub of transportation in China, Hubei University of Economics is a full-time comprehensive university under the administration of Hubei Provincial Department of Education. Just beyond this bustling city's center to the south lies the picturesque campus of over 279 acres, with an expansion area of 620,000 square meters, an oasis nestled on the bank of Tangxun Lake. Hubei University of Economics is highly recognized as Central China's epicenter for cultivating brilliant talents majored in Economics and Management, as well as a superior training center for excellent talents majored in Literature, Law, Natural Science, Engineering and Art.
TEACHING STAFF
HBUE has built a team of high-level teaching staff of ambitious and energetic teachers, including four specially-appointed professors, eight chair professors, six professors from"Chutian Scholar Project", one national academic leader, thirteen experts funded through a special allowance of the State Council and provincial government, three young experts with demonstrated contribution to Hubei Province, four cross-century academic leaders and academic notables in Hubei, three candidates for Hubei New Century Talents Project (Phase II), 92 professors and 294 associate professors that form a solid foundation. A number of young and middle-age academic leaders continue working at the frontier of research and education, growing their promising talents in Economics and Management and beyond.
STUDENTS
Over 16,000 enrolled students, including post-graduate and undergraduate students.
DISCIPLINES & SPECIALTIES
HUBE currently maintains 19 teaching units: Department of Economics, School of Environment, Research and International Trade, School of Finance, School of Finance and Public Administration, School of Business Administration, School of Accountancy, School of Logistics and Engineering Management, School of Tourism and Hotel Management, School of Information Management, School of Law, Department of Ideology and Politics, School of Arts, School of Journalism and Communication, School of Foreign Languages, School of Statistics, Department of Electronic Engineering, Department of Physical Education, School of International Education and School of Further Education with 53 majors for undergraduate students. They form a coordinated and comprehensive system. Economics and Management are the function primary of this system with Law, Literature, Natural Science, Engineering, and Art developed to balance. Our university has established 32 research institutes, including the Research Center of Hubei Financial Development and Financial Security, Research Center of Hubei Logistics Development, Hubei Research Center of Water Affair, Monitoring and Assessment Center of Support Policy for Hubei Large and Medium-Sized Reservoir Resettlement, Hubei Data Research Center and the Hubei Country Economic Research Institute.
TEACHING PRACTICE
The goal of HBUE is to cultivate application-oriented talents with innovative thoughts and practical ability. With emphasis upon reformation of education, new models of teaching have been developed and applied such as experimental class, feature class, elite education models in the context of popular education patterns, and market-oriented co-education between school and enterprises. The school has seven key research bases in humanities and social science at the provincial level, four project units for key discipline at the provincial level, four majors for master's degree recruitment, twelve excellent courses at the provincial level, two prominent teaching teams at the provincial level, three experimental demonstration centers at the provincial level, one innovation activity base for college students at the provincial level, three internship and training bases at the provincial level, one off-campus internship base construction project at the national level, 67 professional laboratories for courses such as Financial Investment and E-commerce, and 200 bases for education practice and internship. The graduate employment rate consistently maintains a high rate of more than 90%.
SCIENTIFIC RESEARCH
Over the past decade, HBUE has undertaken more than 1250 research projects, of which 29 are the National Social Sciences Fund Projects, 7 are National Natural Science Fund Projects, 47 are Humanities and Social Science Fund Projects with the Ministry of Education, 14 China Postdoctoral Science Foundation Projects, and 123 projects at the provincial and ministerial levels. Teachers and professors have published over 11000 academic papers in authoritative journals and have won 45 research awards at the provincial and national levels. HBUE has seven technological innovation teams of gifted youth among the colleges and universities in Hubei that have been approved, along with seven key research bases of humanities and social science. The journal"Hubei University of Economics"has been recognized as one of the National Outstanding Science Journals and Core Journals of Humanities and Social Science in China.
INTERNATIONAL COMMUNICATION
HBUE has co-established Confucius Institutes with Auburn University at Montgomery, USA and run a graduate and a junior college education program with Auburn University at Montgomery (US) and Swinburne University of Technology (Australia) respectively. HBUE has conducted student exchange program with Pace University (US), California State University _ Stanislaus (US), Umea University (Sweden). In addition, HBUE has also built close relationships with many key universities and institutes from the UK, the US, France, New Zealand, Ireland and etc. in terms of visiting professor/student program, research collaboration and other forms of cooperation.
(PPT presentation of HBUE)
(Last updated: Dec. 2014; Source: President's Office, Development & Planning Office)