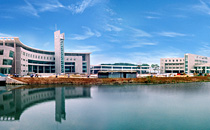 Overview of University's International Cooperation & HMT Cooperation
The internationalization of HBUE dates back to the founding of the university in 2002. HBUE has always attached great importance to the international exchange and cooperation. Over the years, under the overall blueprint of building a high-level provincial university with business-featured characteristic, HBUE has followed the path of running the school in an international way, strengthen exchanges and cooperation with good universities.
Now HBUE has signed exchange & cooperation agreements with more than 60 universities and research institutions in over 30 countries and regions for in-depth cooperation of good quality in various fields, including Auburn University at Montgomery, West Sydney University, Birmingham University College, Hanze University of Applied Sciences, Macquarie University, University of Detroit Mercy, and Swansea University, etc.
HBUE aims to cultivate talents with international perspectives through the introduction of overseas high-quality education resource, the joint education programs with foreign universities and the student exchange both in the long term and short term. Every year more than 200 students are sent to partner universities for exchange and further study. HBUE boasts a nice atmosphere of international academic exchange, receiving foreign delegation from many overseas universities, holding international meetings and symposiums. University starts to recruit international students in 2016, and now has more than 144 international students in total.
University builds up good relationship with universities of HMT Area, and it has successfully hired more than 40 faculties from Taiwan and recruiting Taiwan student in Economics and Finance. The Taiwan Affairs Office of the CPC Central committee and Taiwan Affairs Office of State Council approved university as a "demonstration site for youth employment and entrepreneurship on both sides of the Taiwan Strait", which is a bright card for the construction of talent team.